rosie was born around february 14th, 2019 and was promptly abandoned in a field in ballinasloe :( after being rescued at just a few days old by the GSPCA, she was taken in alongside another dog she was found with & from there they did the best they could for three months until she was finally ready for adoption... she was a small, black dog that looked like she was going to end up being some kind of black lab, except for the way her eyes were set into her face which gave us a little hint to her mixed lineage. we didn't really care that much though, cuz she was perfect! my family hadn't had a dog for almost ten years but we were finally ready to let another one into our hearts, and rosie fit perfectly into that space. :)

when i went in to meet her the first time she was the smaller of the two and was much shier and quieter compared to the other sibling who was much larger, blonde, and kept attacking my shoelaces lol!!! but i picked up rosie into my arms and i knew immediately she was going to be the one... the rest of the process was a blur and eventually we found ourselves driving over an hour home to bring back the new love of our lives!! she was super nervous shaking in my arms cuz she'd never experienced this (or most things) before, and all i could do was hold her and try to get across to her that everything was going to be okay... but as soon as we got home, her character did a complete 180 and she immediately took charge of the house!!!!! she instantly got to work scouting out every inch of the house, jumping up on the couches, even sitting at the table- and when anyone tried to get near her she'd fall to the floor dramatically like a tipped cow and put her paws up for belly rubs!!! i was home from school for the week so i spent the whole time showing her her new world, bringing her around town and down to the beach and into the woods... she insisted on waking up at 9 am every day and would use her little paws to shove me out of bed when i didn't get up fast enough! and when she decided it was time to bed she'd curl up in my bed (in my spot, but hey, sacrifices must be made) and i'd tuck her in until i joined her.

it's been over three years since then as of writing this and i can't remember or imagine my life without her... :) she's since grown into one of the goofiest lookin dogs with a white beard, wirey coarse hair, skinny little legs, sprouts of white and grey in odd places and even an uneven number of nipples (no, i don't know why)-- but she's the most beautiful dog in my heart and i make sure she knows it!!! cuz she was a rescue we have no idea of knowing what breeds make up her title of megamutt, but she seems to have some pointer blood because she points like scooby doo when she smells something new or interesting!!! she's really really intelligent, too, and knows a whole dictionary of words. she loves to sit at the front of the car so she knows all of her favorite routes along with our names (including the cats!), a handful of commands, names of the rooms of the house, and she even recognises my school uniform on other people- but can recognise me from a distance even when i'm wearing the same uniform as everybody else!!!!! she has a really strong personality now and she loves sneaking around, thieving stuff from the recycling, tea cookies, our cats (even if they don't like her back as much LOL), ropes, and her stuffed animals, especially the bunnies! and even though she's not a "singing dog" we started howling at her for fun when she was a puppy and now she can howl all by herself, sometimes with us for fun or sometimes when she's alone and wants attention because she knows her voice will get our attention for sure! speaking of her voice, she's SOOO vocal... if you don't say "good morning" back to her she'll get sooo mad LOL!!! she loves talking back when she's told off for being bold, or giving her opinion whenever people are having conversations or arguments around her.

she's still kind of shy though. she's afraid of most electrical appliances, vehicles (especially bikes), men (especially with beards), dogs smaller than her, some kids, and long things like fishing poles or broomsticks- but hey, nobody is perfect... x) and it's not a socialization thing, either, cuz i made sure she saw as much as she could as a puppy, she's just odd and also i don't know whatever she experienced as a puppy before she was taken in. but i try to keep her moving and bring her around when i can :) if i'm walking anywhere on my own she usually comes with me! her biggest travels yet have been climbing to the top of diamond hill and vacationing down in castlemartyr in cork for a week as well as tons of all sorts of random adventures across the west coast with myself and mom... eventually i want to climb croagh patrick with her and even possibly carrauntoohil??! but i think it'll be a while before we're ready for that XD

all in all i don't think i've ever connected with an animal so strongly in my life before and coming home to her every day for her to jump around and kiss my face is always a highlight no matter how many times i do it!! she wakes up with me and goes to bed with me still. i love her so, so, so, so, sooo much with all my heart has to offer and i'm so excited to see what life has in store for both of us... :)
my mom holding her after we finished signing the adoption papers!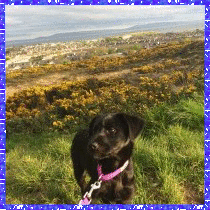 her first time at my favorite hidden chill-out spot on top of a hill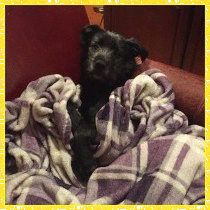 getting warm and cozy after her first bath at home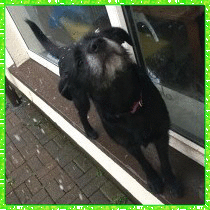 the first time she ever saw snow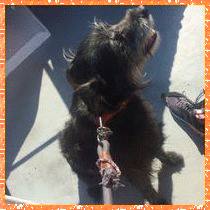 first time on a boat!!! we brought her to the aran islands :)